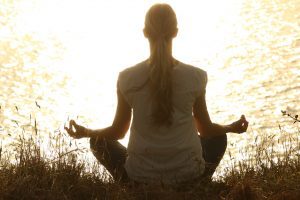 More and more Americans are turning to alternative and complementary forms of medicine such as yoga, meditation, chiropractors and acupuncture. According to the National Center for Complementary and Integrative Health, part of the Centers for Disease Control and Prevention's National Center for Health Statistics, more than 30 percent of American adults and roughly 12 percent of American children use "healthcare approaches that are not typically part of conventional medical care or that may have origins outside of usual Western practices."
Non-mainstream practices used in place of conventional medicine are considered "alternative" methods. The combination of conventional medicine and non-mainstream practices are considered "complementary" methods. Complementary methods are growing in the United States according to the National Center for Health Statistics' National Health Interview Survey. According to the survey, the practice of yoga rose roughly five percent in both adults and children between 2012 and 2017 while meditation jumped a little under five percent in children and soared roughly 10 percent higher in adults between 2012 and 2017. The use of chiropractors did not change much for children, but increased slightly with adults.
According to Richard Nahin, the lead epidemiologist at the National Center for Complementary and Integrative Health and co-author of the reports, "Many people turn to complementary health approaches, such as yoga and meditation, in order to help with symptom management, such as pain. As well, they turn to these approaches for a general sense of wellbeing." This is because all three methods of complementary medicine appear to have health benefits, Nahin noted. Yoga, for example, has been known to assist with mental health, stress management and lower back pain. Meditation, meanwhile, has been shown to help with irritable bowel syndrome. It is certainly good to know that there are real medical benefits to practices that are rapidly becoming a staple of so many Americans' lives.