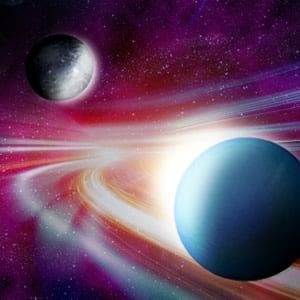 I'm coming off a lovely couple of weeks — in fact, many of us are, as we've been enveloped in a fuzzy Neptune fog that has made it easy to relax a little, put business aside and pursue creative endeavors instead.
In the last week alone I've improvised a few meals using my creativity instead of a recipe; assembled 20 new outfits to wear from the clothes I already have in my closet; and Photoshopped my boyfriend's head on to George Clooney's body. Just for fun!
But this week isn't going to be as much fun. The cosmos are about to pack a punch, so I'm gloving up.
Today we'll experience the third in a series of seven exact Uranus-Pluto squares that are taking place between 2012-1015. This energy is about surprises and transformation, and it's changing the world as we know it. This means ANYTHING could happen today!
Then, later this week we have a Full Moon Lunar Eclipse on Saturday that is going to stir up deep emotions. Sensitivity will be running high that day, and it's happening in my own 7th House of Partners — that means this will affect relationships for me and all my Gemini peeps.
So you see, we're not in for the same kind of cosmic coasting we've become accustomed to recently. We need to stay on our toes and keep our reflexes sharp. I think I'm going to sleep with my shoes on — in one of those new outfits I assembled, of course.
The good news is that all of this week's astrological events are designed to wake us up and get us moving forward — to pull us out of that dreamland we've been enjoying and force us to change things for the better.
Maria DeSimone has the deets on this week's big energy shift if you want to read more. Check it out and good luck, my friends!