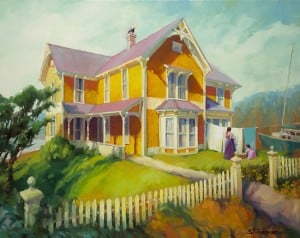 I live in a household where the husband changes the light bulbs. It's not that it's beyond my job description; it's just that I seriously don't like ladders and I'm not particularly good at dismantling overhead light units without breaking something. So the Norwegian Artist takes this on as his regular project, and my job is to let him know when a bulb needs to be changed.
I do it like this:
"Steve, two of the light bulbs in the kitchen are out. Will you change them sometime this week please?"
He says, "Yes," and I move on with life, secure in the knowledge that the man who loves and cares about me heard my request, understood what I meant, and will get to doing it in a timely and efficient manner.
Being Ultra-Specific with God
Now if the Norwegian Artist were God (and believe me, he's never had this misconception), my request, or prayer, might look more like this:
"Steve. Steve. Steve! Are you there? Are you listening to me? I'm talking to you. I have a request. I have something that I need done, and I really need you to do it. I hope that you'll do it — I know you're busy, but you do other things for other people, and I really hope that you'll consider doing something for me.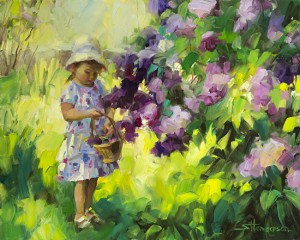 "I need two of the light bulbs in the kitchen changed — specifically, the two that are not working. Please don't change the one that is already working in place of one of them that is not.
"And it's the kitchen light bulbs, not the dining room or the bathroom or the garage — and our kitchen specifically, not the neighbor's house.
"And please use the new fluorescent bulbs, the 100-watt equivalent, and don't try to use 25-watt night light bulbs or anything. And again, both light units, the ones that are out. I'll repeat this all over again to make sure I haven't missed anything."
I assure you that this particular request would not go over well, and yet, it's a common thing we are told to do when we pray: be specific, ultra-ultra specific.
God Is Different, in a Good Way
While there's nothing wrong, and many things right with being specific, sometimes when we do so with God it's with the idea that, if we don't spell everything out exactly as we want it, He'll mess up somehow, not because He's stupid, but because He's perverse, deliberately misunderstanding what it is that we really mean when we pray.
It's along the lines of the man who asked the genie for a million dollars and then died when the genie poured one million gold coins over the top of the hapless supplicant's head. And it's understandable from our human perspective, because in our lifestyle of contracts and legal-speak and deceptive usage of words, we do indeed have to spell everything out to ensure that the person on the other end doesn't wriggle through a loophole.
But that's interacting with humans. When we deal with God, the rules are different. Isaiah 55:8 says, "'For my thoughts are not your thoughts, neither are your ways my ways,' declares the Lord."
Mis-using, and Misunderstanding, Bible Verses
While this verse is frequently misused to pummel people out of their "comfort zone" and manipulate them into doing something they really don't want to do — like teach children's Sunday School — the next verse clarifies:
"'As the heavens are higher than the earth, so are my ways higher than your ways, and my thoughts than your thoughts.'"
This is communication the way it was meant to be — when the person speaking utters his thoughts and needs, and the Person listening fully understands, and respects, the intent. Specifics are offered more so that the person praying truly understands his needs, because the Person listening already knows them.
The essential part of trusting God is trusting His nature: His love, kindness, compassion, understanding, and grace. This means that when we pray, we can talk to Him the way we would to another human who loves and cares for us, and not worry about being deliberately misunderstood, ignored, or manipulated.