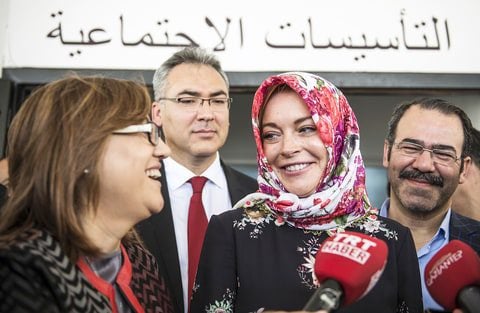 this is a thoughtful video of an interview with Lindsay Lohan being asked directly by British morning show hosts about her intentions towards Islam. Lohan is understandably reticent to be completely open about the status of what she calls a "process" – let her speak for herself:
Lohan freely discusses reading the Qur'an, wearing a headscarf (and being harassed at an airport for it), and the feeling of peace she gains from her spiritual exploration. Her travels and charity work in Turkey in particular have really made an impact. She makes thoughtful comments about personal faith, empathy, and even Trump.
I think that Lohan's intentions towards Islam are sincere. I doubt she will actually convert, but she shows a real affinity for the broader faith that in some ways would be ruined if she had to really grapple with the nuts and bolts of actually converting. But if she does convert, that would be all the more worthy of respect. It's not an easy road, and would be even less so for her given her celebrity.
I hope that she is reading Ms. Marvel. If she hasn't yet, someone needs to gift her a copy.
Related: a gallery on other celebrities alleged to have converted to Islam over the years.