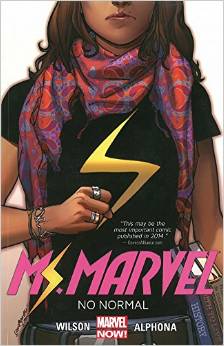 Few people outside the fandom of science fiction and fantasy probably are aware of the Hugo Awards, but in a nutshell, they are the single most prestigious award for SF/F, launched in 1953 during the Golden Age of sci-fi. These are the Academy Awards, the Nobel Prize, of their genre.
In 2013, Saladin Ahmed's book Throne of the Crescent Moon was nominated for Best Novel, losing out to John Scalzi's Redshirts – a tough loss indeed, but a significant honor in its own right. And way back in 1980, Steven Barnes's The Locusts (co-written with Larry Niven) was nominated for Best Novelette, losing out to George R.R. Martin. There may be other Muslims whose works were nominated that I am overlooking, but to the best of my knowledge no Muslim has ever taken home the iconic Huge Rocket statue.
This year, however, that all could change: Ms. Marvel Volume 1: No Normal, written by G. Willow Wilson, is nominated for Best Graphic Story. This is huge news and a tremendous recognition by the SF/F community of the cultural, literary, and social impact of Ms. Marvel – which is almost impossible to summarize, but this article at the venerable AV Club magazine is a pretty good primer: "One year later, Ms. Marvel's influence is felt far beyond the comics page"
How can you support Ms. Marvel? Unfortunately, it takes a little work. Voting in the Hugos is not free – you have to be a member of the World Science Fiction Society, and register for the annual WorldCon convention (this year, named "Sasquan" and held in Spokane, WA). You needn't actually pay the full registration fee to attend the convention – there are "supporting" memberships available for $40. For that $40, however, you will receive the voter's packet which includes the complete set of nominated works in all categories – hundreds of dollars' worth of science fiction and fantasy. This is an incredible bargain just on a fan basis alone.
Make an investment in a supporting Worldcon/Sasquan membership, get a huge pile of amazing fiction to read, and support Ms. Marvel. She's been fighting for us, it's time we got her back 🙂