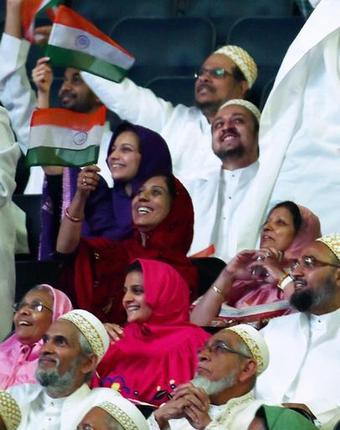 Newly elected Prime Minister Narendra Modi spoke to a huge crowd of Indian expats in New York City on Monday night, outlining his vision of India's future and making an explicit appeal to the NRI community to support their home country – particularly with their wallets. Modi was also saavy enough to recognize that visas remain a perennial hassle for NRIs seeking to visit the homeland, and proposed a long-overdue simplification – combining OCI and PIO cards into one.
Modi did a fantastic job of making the audience feel that they weren't 'that thing' called a NRI or Not Really Indian, but stakeholders in developing India.

He struck a chord by announcing plans to simplify the immigration bureaucracy for Indians living abroad. He announced life time visas for persons of Indian origin (PIO) cardholders.

And in further good news for NRIs with foreign spouses, he said that PIO and OCI cards would be rolled into one card. He also said his government was working towards giving US nationals long-term visas and a visa on arrival following electronic travel authorization.

Modi reached out to India's US diaspora, a highly educated population of nearly 3.2 million, to invest and "Make in India."

"India has three strengths no country in the world has: Democracy, demographic dividend, and demand," said Modi speaking extempore in Hindi.
The official twitter account for the PM's office also confirmed the news about PIO cards:
PIO card holders- they have lot of visa issues. We decided they will get lifelong visas: PM

— PMO India (@PMOIndia) September 28, 2014
Those who stay in India for long have to go to police stations too. They won't have to do that now: PM on issues of PIO card holders

— PMO India (@PMOIndia) September 28, 2014
In some time we will merge PIO and OCI schemes and make it one: PM @narendramodi

— PMO India (@PMOIndia) September 28, 2014
A new scheme will be in place soon: PM

— PMO India (@PMOIndia) September 28, 2014
In a show of support that was widely noted by the media, 100 members of my own community, the Dawoodi Bohras, were in attendance to show their support for Modi and their pride in India. It may seem odd that muslims, especially a primarily Gujarati muslim community like the Bohras, would support Modi in any fashion after his role in orchestrating the 2002 anti-muslim riots in Gujrat. However, Bohras were not alone in supporting Modi – there are many legitimate reasons for Muslims to be disenchanted with the Congress Party, and as a result Modi attracted substantial Muslim support from all across India:
the BJP won 71 out of 80 seats in the populous northern state of Uttar Pradesh, where Muslims are over a fifth of the population. This feat would have been mathematically impossible if all of the state's Muslims voted for non-BJP candidates, even if their votes were split among several parties such as the Bahujan Samaj Party, the Samajwadi Party, and the Congress Party. According to BJP party spokesman Mukhtar Abbas Naqvi, around 14-15 percent of India's Muslims voted for the BJP. This is a vast improvement over the 2-3 percent garnered in previous elections.
In Gujrat, the state where the riots occurred, a substantial fraction of Muslims (not just Bohras) supported the BJP and Modi, for entirely pragmatic reasons. A major driver is economic growth under Modi, with policies of economic inclusion for muslim groups and a real sense that Modi has made an effort to hear Muslim voices:
In the past, people of Gujarat always lived under the fear of communal riots but efforts and endeavours of prominent Muslims had made it possible for numerous Muslim delegations – Islamic scholars, businessmen, youth, women and even street hawkers to meet Modi. He has met them all and given an ear to their grievances. This was something the Muslims had not seen in the last 40 years of Congress rule. Muslim madarsas were supported. Madarsa students, who had never seen or gone to a school, got a chance to appear for SSC and class XIIth examinations. The famous Sarkhej Roza which was in dilapidated condition was renovated and restored. The numbers of Muslim-owned schools and hospitals in the state have increased. Economic prosperity too has visited Muslim households and as a result, the record turn-out by Muslims to vote for Narendra Modi.
Bohras in particular are apolitical and have a strong sense of civic identity; Modi was elected PM by the Indian electorate, so Bohras' support for him is an expression of the community's belief in India's democracy and a genuine desire to move the country as a whole forward. The PM is also keenly aware of the optics of having widespread Muslim support, as an immunization against his human rights record – so in an odd way, supporting him also ensures that he keeps issues affecting Muslims in India on his agenda.
In an odd coincidence – this was the same night as the football game where there was a sajda in the endzone 🙂