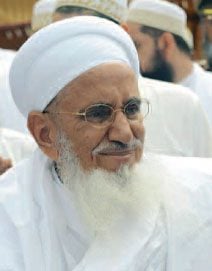 This is a guest post by Durriya Badani
The forty day period of mourning has now elapsed, but the profound sadness at the loss of the beloved head of the Dawoodi Bohra community, a spiritual mother and father, His Holiness, Dr. Syedna Mohammed Burhanuddin remains. On January 17th, the 52nd Dai al-Mutlaq of the Dawoodi Bohra community passed away peacefully at his home in Mumbai.
Shortly after his death, his half brother Khuzema Qutbuddin claimed that he had been appointed as successor to his brother. It was a claim both shocking and unexpected. The nass (appointment) was conferred on Syedna Mufaddal Saifuddin with witnesses both publicly and privately on multiple occasions.
However, in the immediate days following the death, an Indian tabloid sensationalized the illegitimate claim, claiming a "perilous transition" within the community – a blatant falsehood. The countless witnesses both within the family of Syedna Mohammed Burhanuddin and the broader Bohra community meant that there was no question about the legitimate successor to Syedna Mohammed Burhanuddin. However, my aim is not to debate the legitimacy of the claim of Mr. Qutbuddin, which others have responded to in excellent detail elsewhere.
Instead, these events which transpired presented an opportunity for me to reexamine and reaffirm my waliyat (allegiance, loyalty) and mohabbat (love) for my faith and for Syedna Mufaddal Saifuddin. Like all persons of faith, mine speaks to me in a personal and profound way. For me, although the many occasions of the nass upon Syedna Saifuddin are significant, it has been the magnitude of his foresight and the love he exemplifies in his persona which have underscored his position as the legitimate and beloved successor of his father.
Of the many international projects which Syedna Saifuddin has undertaken, it has been the global initiative of Faiz al-Mawaid al-Burhaniyah, also known as thaali, which has touched me most deeply. As a mother with petite Indian daughters, none of whom fell within the bell curve of a growth chart, I am always deeply aware of any mealtime. For me, any moment can be mealtime – an additional chance for additional calories. As a single mother since the death of my husband, I am ever grateful to have the resources and the ability to amply feed my children, a blessing I do not take lightly. In part, it is due to a memory from Mumbai which continues to haunt me.
My children and I had just finished a lovely meal at a restaurant. As we stepped onto the street, a thin, sari-clad mother standing caught my eye. Her hair was disheveled, her feet bare, her clothes worn and ripped. Three young children clamber around her, clearly starving. They are crying as another woman prepares a small pot, far too small to adequately feed them all. I am watching intently, especially the mother's face – her pain, anguish, helplessness and fear captured in her eyes. My heart lurches, and yet I am frozen by my incapacity to do anything meaningful.
But, through the initiative of Faiz al-Mawaid al-Burhaniyah Syedna Mufaddal Saifuddin ensures that not a single Dawoodi Bohra is hungry, or ever experiences the fear, pain anguish or helplessness of where their next meal may come. Whether out of necessity or not, rich or poor – in Los Angeles, London, Karachi, Mombasa or Mumbai – every man, woman and child has a proper, home-cooked meal, delivered to their home often six days a week. The magnitude of that vision lies in its simple underlying assumption, that it is a basic responsibility to not allow your fellow man's stomach to ache with hunger and his mind to fret with anxiety about where he may find his next meal. He taught a fundamental tenet, that first and foremost as a faith community, we must ensure our brothers and sisters do not suffer from food insecurity. It is our duty to love one another and care for another. He once noted in a sermon discussing thaali, "When you feed a hungry man, you do not need to ask for his duas (prayers) for you, it comes spontaneously from his heart."
And so it happened with me. After a frenzied morning with the children, I found myself at the Washington D.C. masjid for a quick errand. The caring members of our jamaat (local community) had prepared a thaali for me, since I neglected to sign up for it myself, unconvinced that I truly needed it. "Surely, thaali was meant for families in more need than I," I thought to myself. But, since it had been prepared and marked with my name, I dutifully collected it. An hour elapsed in the mundane tedium of additional errands when I soon heard the familiar mewing noises for food. En route to McDonald's, I suddenly remembered the thaali in the car. Peeking at it during a stoplight, I found steaming rice layered with dal chawwal palidu. Within moments, I had unwrapped the food and began feeding all of the children, who became satiated and calm. And that very moment, a dua erupted from my heart as my eyes filled with tears – a prayer of gratitude.
It's a moment I think of often, not just in appreciation for having delicious food provided to me and my family, but in the lesson that Syedna teaches to all of us as Bohras. We must care and love one another, taking care of each other's fundamental needs. Just as he, I infer, takes care and loves us.
Part of my faith is rooted in the countless moments of love I have experienced through my prayers, and emphasized in the following phrase, "Hal al-din illal Hub? Hal al-din illal Hub? Hal al-din illal Hub?" ("What is faith, except love?") Syedna Saifuddin reminds us again and again, with Faiz al-Mawaid al-Burhaniyah being just one powerful example of how he has translated those words into meaningful action and impact. It is also another example of the way in which Syedna Saifuddin continues the legacy of Syedna Mohammed Burhanuddin.
Syedna Mohammed Burhanuddin's vision and leadership was seen in the developments of roads in Yemen, construction of the state of the art Saifee Hospital in Mumbai and the undertaking renovation and reconstruction of the 16 and a half acre Bhendi Bazaar area, a groundbreaking project which Syedna Mufaddal Saifuddin will guide to completion.
Syedna Mufaddal Saifuddin is continuing the legacy of his beloved father, as Syedna Mohammed Burhanuddin continued the legacy of his father, Syedna Taher Saifuddin. In this time of grief, Syedna Saifuddin is our solace, our inspiration, and the anchor of our faith as the 53rd Dai al-Mutlaq of the Dawoodi Bohra community.
Durriya Badani most recently served as Deputy Director of the Project on U.S. Relations with the Islamic World at the Brookings Institution in Washington, D.C. Prior to her tenure at Brookings, she served as a Presidential Management Fellow on the Policy Planning and Speechwriting team at the U.S. Department of State. She is the co-author of the Brookings publication "The Role of Religious Leaders and Religious Communities in Diplomacy" and the author of "Forty Years of Female Rule in Yemen: The Reign of-al-Sayyida bint Ahmed al-Sulayhi." She completed her M.A. in Arabic and Islamic Studies from the University of Texas at Austin.