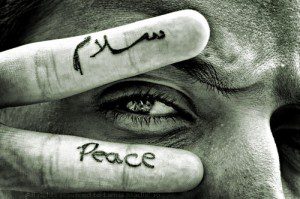 The English translation is not as eloquent as the original Arabic, but let me quote from the Koran, itself: "In the long run, evil in the extreme will be the end of those who do evil. For that they rejected the signs of Allah and held them up to ridicule." The face of terror is not the true faith of Islam. That's not what Islam is all about. Islam is peace. These terrorists don't represent peace. They represent evil and war. — George W. Bush, 17th September 2001
While I deeply appreciate President Bush's intention with respect to that statement above, just a few days after 9-11, it's important to understand that "religion of peace" is a meaningless phrase (a political neologism). It's as meaningless as religion of Love, of War, of Spaghetti. A religion is just a collection of actions and beliefs that are believed to have higher meaning; but it's really an inert object. It's the actions of its adherents that give it life and meaning, and in any sufficiently large group of adherents, you will have diversity. In diversity, you will have minorities, and extremists.
The divine perfection of any faith is independent of the flaws of its adherents, and since all adherents are human beings, there will be a corruption of that divine. Islam has many safeguards against this corruption (such as the admonition against innovation or bid'a, plus centuries of jurisprudence from the madhabs). But Islam also recognizes that such corruption exists and has a tolerance and forgiveness for it. This is the fundamental curse of the facility of Reason – muslims aren't supposed to be robots (or Orcs). We are supposed to use our faculties, and strive towards the divine perfection in deeds and our thoughts. Of course we will fail, but as in Rene Daumal's unfinished masterpiece Mount Analogue, the climb towards the summit is the goal, not the summit itself. Especially when that summit is an asymptotic infinity of unattainable ideal.
Islam is not a religion of peace, it is a religion of justice. And as the saying goes, si vis pacem, cole justitiam (if you desire peace, work for justice).
As muslims, we do harm to ourselves when relying on neologisms like "Religion of Peace". It's better to simply point to empirical data: there are 1 billion muslims on the planet. If there were something to the idea that Islam is more dangerous than other religions, I think you'd see a world very different from one in which Arab youth courageously take to the streets in defiance of tyrants.
Related: Is Islam a religion of peace? By Ahmed Afzaal, Ph.D.