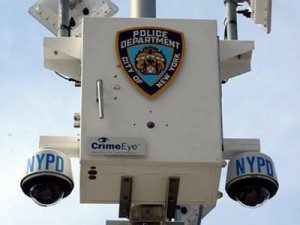 The Associated Press' investigative series on NYPD spying continues:
Americans living and working in Newark were subjected to surveillance as part of the New York Police Department's effort to build databases of where Muslims work, shop and pray. The operation in Newark was so secretive even the city's mayor says he was kept in the dark.

For months in mid-2007, plainclothes officers from the NYPD's Demographics Units fanned out across Newark, taking pictures and eavesdropping on conversations inside businesses owned or frequented by Muslims.

The result was a 60-page report, obtained by The Associated Press, containing brief summaries of businesses and their clientele. Police also photographed and mapped 16 mosques, listing them as "Islamic Religious Institutions."

The report cited no evidence of terrorism or criminal behavior. It was a guide to Newark's Muslims.
The complete report is available from the AP and runs 60 pages long.
As always, worth reiterating: the data proves that Muslim Americans are not a threat, and that Muslim Americans are the best allies against terror.