The second volume of I Speak or Myself is now available for pre-order on Amazon: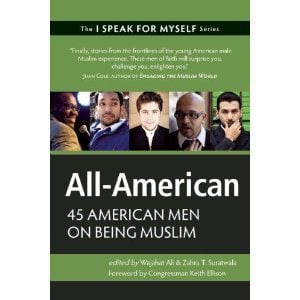 The book, like its predecessor, is a collection of essays from American Muslims, in this case men. I am honored to be a contributor to this book, along with Svend White, Shahed Amanullah, Aamer Jamali, and many other good friends. The foreword is written by Representative Keith Ellison, who is the single member of Congress I most admire (with Bernie Sanders being a close second).
The reason this is important is that it provides a vehicle to highlight ordinary muslims, and in particular that most terrifying variety, the muslim male. The number of essays (45) provides a huge cross-section of voices, but the common threads of patriotism, manhood, fatherhood, and angst will be familiar to every American male, not just muslims. With the deep pockets of the Islamophobia industry and the War on Muslims by the Republican Party , there's a real need for books tha tell our side of the story like this, the previous book, and others like Ayesh Mattu's Love, Inshallah.
Here's the complete contributor list:
Svend White
Haroon Moghul
Jason Moy
Aman Ali
Amer Ahmad
Mark Gonzales
Kofi Rashid
Shahzad Husain Abbas
Daayiee Abdullah
Hussein Rashid
Adisa Banjoko
Jason van Boom
Fares Alhassen
Shahed Amanullah
Shakeer Abdullah
Baraka Blue
Tynan Power
Aziz H. Poonawalla
Kamran Pasha
Davi Barker
Dawud Walid
Hasan Minhaj
Mazen Asbahi
Aziz Hasan
Sami H. Elmansoury
Justin Mashouf
Mohamed Geraldez
Obaid Siddiqui
Khaled A. Beydoun
Sameer Sarmast
Ibrahim Abdul-Matin
Aamer H. Jamali
Umair Khan
Wahid Momand
Michael Muhammad Knight
Ehab Zahriyeh
Irfan Rydhan
Atif Moon
Basim Elkarra
Abid Husain
Preacher Moss
Rashid Dar
Omar Suleiman
Humza Ilyas
Suhail A. Khan
Quite the all-star list, IMHO. (and me.) So, what are you waiting for? pre-order it now! 🙂