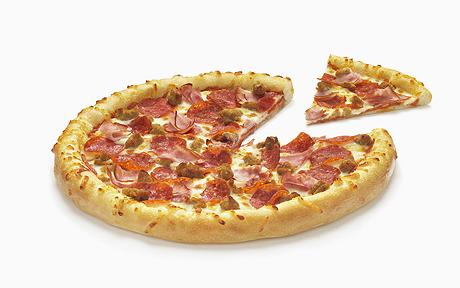 What happens when a Domino's pizza decides to serve to all-halal menu? The end of Western civilization, of course:
Chris Yates, 29, a hospital worker living in Moseley, Birmingham, said he was
told he couldn't have a 'Meteor' pizza, topped with pepperoni, sausage,
meatballs, ground beef and smoky bacon, when he called up at the weekend.

He said: "It's a disgrace, I can appreciate them having it as an option
but to have it completely halal is just not on," he fumed.

"I'm all for racial and religious tolerance but if anything this is
intolerant to my beliefs and discriminatory against me.

"Instead I had to travel two miles out of my way to another branch – I
was appalled. "Hall Green is a mixed race area and should therefore
cater to its multicultural make-up.

"In a society that promotes racial and religious integration, this sort
of things only isolates people."

While Peter Merholz, 38, from Hall Green, added: "This is a global pizza
chain that is isolating western values and choice. It's alienating people
and that's just not on.

"I'd been coming here for ages but now I'll go elsewhere because I can't
get a pepperoni pizza, which is what I always have."

Halal items on the menu include halal spicy beef sausage, roast and tandoori
chicken, halal pepperoni and halal cured turkey – all produced and stored
within the Halal Food Authorities guidelines.
The reactions (emphasis mine) are illuminating. These members of the religious and cultural minority are so threatened by one halal pizza shop that they feel as if they are being discriminated against – and this despite the fact that pepperoni remains on the menu, and there are plenty of other pizza venues they can get their pig products from if their palates really are so refined as to discern the difference between halal and non-halal anyway (let's face it. this is pizza we are talking about, not foie gras).
The predictable cries of "Dhimmitude" notwithstanding, this is actually a positive mark of assimilation and a good thing overall for the UK muslim community. It's exactly the sort of thing that the putative Defenders of the West should be trumpeting as evidence of the West's capability for religious tolerance and freedom. Instead, we have pepperoni ultimatums.
It's worth pointing out that the muslim world doesn't seem too concerned about Burger King's prime location in Mecca. Also note that the Subway fast-food chain has many Kosher outlets now in the US. Their existence went largely unremarked and un-outraged. Frankly I think that Kosher and Halal should be combined. It wouldn't be too hard to cross-certify food according to both standards, at least for basic staples.