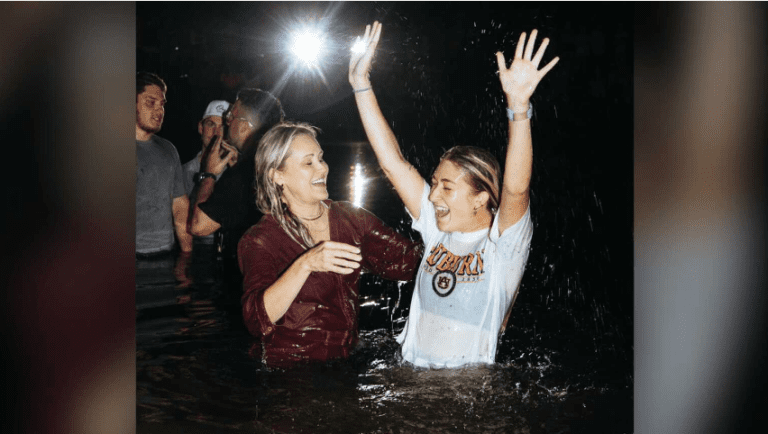 Over 200 students at an Alabama college were baptized in one night after a campus worship program reportedly attended by hundreds. The baptisms took place in a lake at Auburn's Red Barn venue, about a half mile from Auburn University's Neville Arena, the site of a "Unite Auburn" worship event that drew a massive crowd.
The "Unite Auburn" event featured performances by Christian worship band Passion and speakers like Christian author Jennie Allen and Rev. Jonathan Pokluda, lead pastor of Harris Creek Baptist Church in Waco, Texas. Allen shared on Instagram that toward the end of the night, she felt led to ask students if they wanted to be baptized. She explained, "I finished a message at Auburn and was off stage, and a student texted the pastor beside me they wanted to be baptized tonight. So I went back on stage and asked if anyone else wanted to trust Christ and be baptized."
According to Allen, "Dozens raised their hands." There wasn't a tub to baptize the students, so thousands headed to Auburn's Red Barn lake. Allen said they circled the lake, and 6-10 of us were in the water baptizing hundreds. Auburn Tigers head football coach Hugh Freeze also attended the event and "got in the water to help," according to Montgomery-based WSFA. In one clip, Freeze was shown assisting in the baptism of one of the school's football players.
Those who attended the event describe it as incredible. Jeremy Napier, the chaplain for the Auburn men's basketball team, told The Gazette, "I've been a part of just planning this event, and man, the Lord just took it from there, and we ended up at the Red Barn. It was not planned at all. I think this was a spontaneous decision at the very end where we just said, 'Let's go for it.'"
Auburn student and journalist Kristen Carr witnessed the entire thing and told WFSA12 News it was something she had never seen before. She expressed, "Never in my life. I was even talking to adults who were there, and they said they had never witnessed anything like that." A video shows the large crowd gathered at the very edge of the lake. Cheers erupt every time someone emerges from the water.
Carr shared on the X site, formerly known as Twitter, "A revival is happening tonight in Auburn. People are getting baptized at Red Barn, with hundreds of people cheering them on. The baptisms started following an event at Neville Arena tonight called Unite." Napier says the night exemplifies that nothing is impossible with God.
He said, "We serve an awesome God who can do amazing things. My prayer obviously is that all these decisions were genuine decisions and heart change. It's awesome to do it in this environment, but now is where things get tough." He encourages those baptized to get plugged into a local church. Floyd believes that will not be hard, saying, "This is just a message of unity. And when you are a part of the Body of Christ, you are never alone."