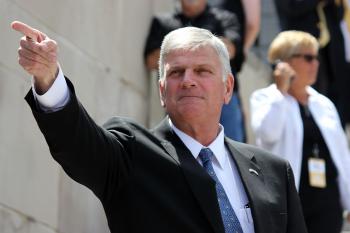 Last week, President Donald Trump gave a speech that called for "healing and reconciliation" after the Capitol was stormed by rioters. Evangelist took this sentiment a step further and urged Trump to invite the President-elect Joe Biden to the white house to prepare for a smooth transition.
"Thank you President Donald J. Trump for your conciliatory words to the nation last night," Graham wrote on Facebook.
"I hope you will quickly invite President-elect Joe Biden, Vice President-elect Kamala Harris, and their spouses to the White House for a meeting to begin the healing and preparation for a smooth transition," Graham, who heads Samaritan's Purse and Billy Graham Evangelistic Association, continued.
Graham concluded, "We are praying for you, Vice President Mike Pence, President-elect Biden, Vice President-elect Harris, and our other leaders in Washington."
Shortly after Graham posted his message, though, Trump revealed in a tweet that he would not be attending Biden's inauguration.
Graham has been vocal to his followers over the last week in regards to the riot. In his first post regarding it, Graham wrote: "The division in our country is as great as any time since the Civil War. I am calling on Christians to unite our hearts together in prayer for President-elect Joe Biden and Vice President-elect Kamala Harris, and for the leadership in both parties. Pray that everyone will stop the finger-pointing and realize that both parties bear responsibility for the problems we face today. Pray that they will come together and work together for the good of all of the American people."
Many of his commenters were angry at Graham's words, with some going as far as to say that he is "betraying" the President.