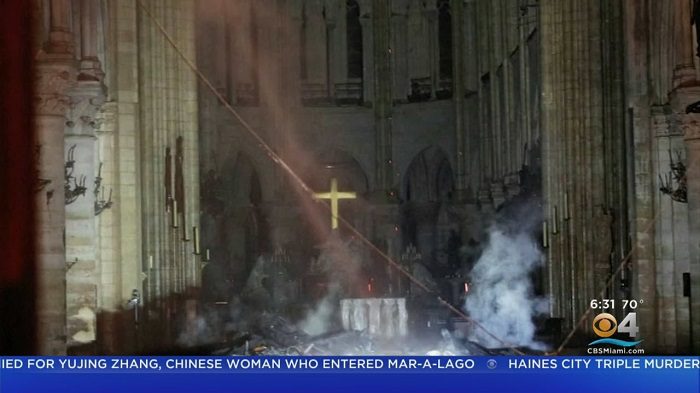 They say a picture tells a thousand words and this couldn't be truer.
Reuters Philippe Wojazer captured this somber yet breathtaking photograph of a cross still standing after the Notre-Dame Cathedral caught fire.
When the dust finally settled, this incredible image of the cross was left.
Despite the flames going up for hours, look at the altar inside!
The cross still stands. https://t.co/dk39POrzh2

— CJ Pearson (@thecjpearson) April 15, 2019
<script async src="https://platform.twitter.com/widgets.js" charset="utf-8″></script>
The massive blaze at Notre Dame Cathedral in Paris devastated large parts of the 850-year-old church on Monday evening.
The fire lasted for many hours. While the main structure was saved, firefighters were unable to save the central spire, which had been added during a restoration project in the 19th century.
Two policemen and a firefighter were slightly injured during the fire, according to Paris Fire Brigade. Thankfully, no lives were lost during this tragedy.
In addition to no lives being lost during the fire, we know that the cathedral's bell towers, the crown of thorns and one of the cathedral's rose windows ultimately survived. Other major art pieces from Notre Dame were also saved, thanks to the fire services and police, Paris' mayor said.
While Paris prosecutor has opened an investigation, Remy Heitz told reporters, "Nothing suggests it was an intentional act."
Firefighters are now working to ensure there is no further risk of fire and that the structure is stable.
Donors have already pledged hundreds of millions toward rebuilding efforts.
As we begin Holy Week, many see this image as a sign of hope that Jesus Christ is with us, even in the darkest hours.
We want to know what you think.