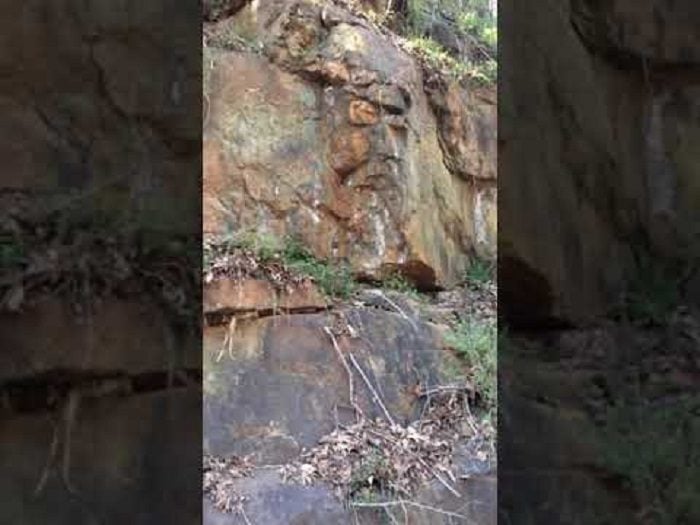 Shae House, a resident of Lynchburg Va., says she recently spotted an image of what appears to be Jesus when she was walking along the Blackwater Creek trail ABC 3340 reports.
It took me all morning but I finally see Jesus on the rock on Blackwater Creek Trail. Do you see what we see?? pic.twitter.com/6qKghK6uaO

— Caren Pinto (@CarenRPinto) April 10, 2019
Initially, the woman decided to take pictures of the rocks because she thought it was a pretty formation. She was amazed after she looked back over the pictures of what they appeared to reveal, so much so that it startled her.
<script async src="https://platform.twitter.com/widgets.js" charset="utf-8″></script>
"I gasped and then eagerly started to take more pictures. I was delighted. I was listening to my praise and worship music on my phone and was praising God humming, I just didn't think I'd SEE God," says House.
What she was particularly amazed by was the crown of thorns.
It seems that more recently, people have been spotting breathtaking images of Jesus in unusual places.
Italian artist Alfredo Lo Brutto was able to photograph a beautiful shot that looked like Jesus with His arms outstretched during a sunset in Italy.
"I was enchanted by the view," the artist said.
"I don't often share pictures on social media, but when I took this one, I instantly felt like I wanted other people to see, because it was so beautiful."
The photo immediately went viral with many social media users saying that they could clearly see the shape of Jesus in the sky with His arms in a blessing gesture.
Lo Brutto's timing couldn't have been more perfect as he captured the image right when sunlight pierced through the clouds. It looked very similar to an illuminated version of the Christ the Redeemer statue in Rio de Janiero, Brazil.
House talked about her experience seeing Jesus' face in the YouTube video below.
https://www.youtube.com/watch?v=Uzp-EL179UI [/embed]
We want to know what you think!