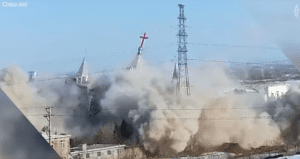 A city in southern China is offering cash to citizens willing to inform on "illegal religious groups," ramping up China's crackdown on underground churches.
The Guangzhou Department of Ethnic and Religious Affairs officially announced the offer on its website to anyone who provides information about the structure of an illegal religious group, or information leading to the capture of key members and leaders of those groups.
Reporters could receive monetary amounts of 3,000, 5,000 or 10,000 yuan ($450, $750 and $1,500 USD) for providing them with information. The size of the prize will depend on the scale of the illegal activity.
The regulation, called "Incentives to Motivate the Masses to Report on Illegal Religious Activities," will provide clues and assistance to "relevant government departments" for tracking down "illegal religious groups or members."
Guangzhou authorities characterized "illegal activities" as establishing places of religious worship without government approval, holding religious activities in non-religious institutions or locations, accepting religious donations, organizing Chinese citizens to go abroad for religious activities such as seminars, meetings, or worship without approval, or providing religious education without approval.
According to the South China Morning Post, the city's crackdown has come down hardest on unregistered Protestant churches. The government has also demolished Catholic churches, Buddhist temples and Muslim mosques that were not government-approved.
Ying Fuk-Tsang, who is the director of the Divinity School of Chung Chi College at the Chinese University of Hong Kong, said the crackdown is more common than people think.
"This will compress the survival space of house churches," he told the Morning Post. "Not only will they have to deal with the official crackdown but now also the threat from their neighbors."
Recently, Chinese authorities arrested just over 40 Christians worshiping in homes after the closure of Chengdu's Early Rain Covenant Church. Their arrests came after over 160 more arrests of church members were made last year.
China ranks as the 27th worst nation in the world when it comes to Christian persecution, according to Open Doors USA's World Watch List.