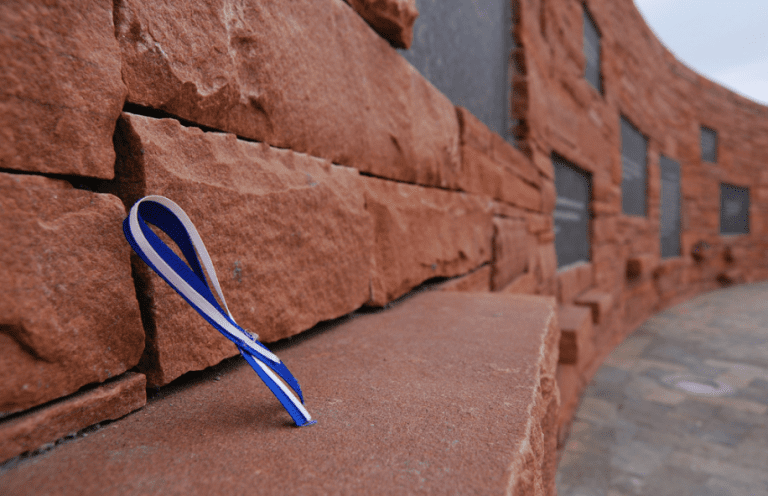 "How could God possibly let this happen?"
Frank DeAngelis asked himself this after the tragic events that happened at Columbine High School in Littleton, Colorado. DeAngelis was the former principal of the school when 12 students and one teacher were murdered on April 20, 1999.
DeAngelis refers to those that died that day as "the beloved 13." Dave Sanders, the teacher who was killed, was a close family friend of DeAngelis. DeAngelis had gone to his wedding and celebrated birthdays together.
A few days after the shooting, the pastor of DeAngelis' church, Father Ken Leone, invited DeAngelis to a service being held that week.
"Then he (Fr. Leone) whispered something in my ear. He said, 'Frank, that day you should've died. You encountered the gunman but you survived and God's got a plan for you.' He said that in our lives we've got to live by faith and not by sight. And he went on to say many times that our difficulties are really blessings in disguise. He said, 'It's going to be a tough journey, but God is going to be with you every step of the way.' I took that to heart and returned to Columbine, and in addition ended up being there 15 years after."
DeAngelis was in his office when he first heard gunshots. He quickly grabbed students walking by to put them in the gymnasium behind locked doors. The gunman was walking closer toward them when DeAngelis realized the gym was locked. He grabbed his large ring of keys and miraculously pulled out the correct one on the first try.
"It was not a specially marked key, it wasn't larger or anything. I just reached into my pocket, first try, and I really believe it was divine intervention. If I would have had to fumble around to find the key there's a good chance the girls and I probably would have died that day," DeAngelis said.
All of this weighed heavily on the principal, who struggled to walk back inside the school after the shooting. DeAngelis says a counselor, who also was a member of his parish, provided him spiritual and mental help. In turn, he began to give support back to his students and faculty.
"I remember students high-fiving me and Danny Rohrbough in the halls, and it's those memories that helped me to go back into that building. And Rachel Scott, two weeks prior, was performing on stage. She was a lead actress in a play. So I had to remember them living their lives and not dying, and that allowed me to return to the school."
DeAngelis worried the most about the class of 1999, however, because they graduated only a little over a month after the tragedy happened. They did not get the support that other classes did.
"For all of us who returned to Columbine it was tough, but we had each other. Unfortunately, in talking to some of them (the class of '99) as time goes on, part of their healing is to share their experiences after the tragedy. Many turned to alcohol and drugs, many contemplated suicide. But I provided hope and explained some of the things that helped me. My faith was so important and the counseling was so important. I told them that it's a marathon and not a sprint, and we were not going to wake up someday and everything was going to be back to normal; we had to redefine what normal is."
DeAngelis retired as principal of Columbine in 2014, after the elementary and middle school classes had finally graduated. He now works for Safe and Sound Schools, an organization that provides resources for parents and educators on how they can make their schools safer.
"If it wasn't for my belief in God and my faith and understanding that He's a plan for us," even in suffering, DeAngelis said he wouldn't have been able to stay at Columbine or work with Safe and Sound Schools.
"A lot of times we don't know what that plan is, and there's times when people will say, 'Geez, I prayed and prayed and God didn't answer my prayer.' And I say, 'Well, it may not be He did not answer your prayer. He may have something different for you, and you just gotta believe.' It's so easy to believe when everything's going well, but when your faith is tested that's where you really got to believe," he said before citing 2 Corinthians 5:7, "For we live by faith, not by sight."
After the Columbine tragedy, DeAngelis said he remembers that someone gave him a copy of the poem "Footprints," also known as "Footprints in the Sand," and how that kept him going.
"It really helps me on some of those days when I'm struggling, and I just imagine God grabbing my hand and holding me. And I can't tell you the number of times while I go speaking and I just pray for God to give me the words that come out of my mouth and out of my heart. And I imagine Him whispering in my ear, saying, 'Frank, you can do this. You're going to help others.' And that's what allows me to continue to do what I'm doing."