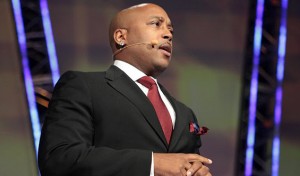 Inspiring people who are role-models are often difficult to come by when it comes to today's television shows.
Programs are often so full of rude, crude and offensive behavior from people with the same qualities it is making TV harder and harder to watch.
ABC's "Shark Tank" thankfully has little of that so-called "edgy" material in it, though the hosts can sometimes be unnecessarily rude to each other as they battle it out to possibly invest in others' dreams/inventions.
Another reason I enjoy the program is the presence of Daymond John. The FUBU creator and business entrepreneur comes across as a good man and role-model in a time when the world is practically crying out for decent people.
Although he has an unwavering desire to succeed in his many ventures, John still displays his huge heart and compassion. He once 'chased down' a couple to complete a deal when he knew it would be in their best interests to work with him.
That just doesn't happen on "Shark Tank", where once you show your hand a deal either gets done, or not, often in the best interests of the hopeful entrepreneurs.
Things won't come easily for the business hopefuls, whether or not John or his colleagues, like Dallas Mavericks owner Mark Cuban, invest in them or not.
Perhaps that's the way it should be. John started out by working on his FUBU business while keeping a full-time job at Red Lobster until he built it up.
So keep on keepin' on Daymond John. The world needs more people like you!