I just noticed that the late, great Sammy Davis Jr's birthday, Dec. 8, came and went over the weekend.
I miss the talented man, who broke down racial barriers through high great singing, dancing and even acting skills.
Yes, even the latter, as judged by his appearance on the TV classic "All in the Family""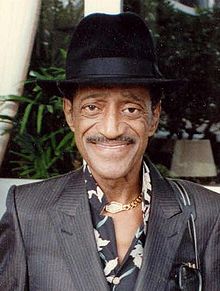 Davis had many hysterical moments in the episode, where he supposedly left his briefcase in Archie's cab and had to pick it up at the Bunker home.
Many laughs ensued as the liberal duo of Rob Reiner and Sally Struthers tried their best to ruin conservative Archie's moment in the spotlight with the star, who played himself.
Davis showed off his acting chops a bit with his reaction to Edith's offering of a Twinkie to their guest.
Davis looked positively stunned at the sight of the sponge cake stuffed with vanilla filling.
It was a subtle moment, but it should be noted that a Twinkie, reportedly about to be undergoing its final shipment, helped bring together black and white, rich and poor.
The episode stands in stark contrast to what 'passes' for comedy today: Jamie Foxx's pathetic rant about Barack Obama being his 'Lord and Savior'. (I won't write 'our' as I couldn't disagree with his assessment more and believe it was very tasteless).
I haven't enjoyed a twinkie for a long time, but the world was a better place with them in it.
The same could be said, with all respect intended, for Sammy Davis Jr.