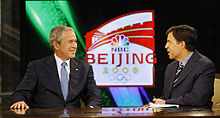 Let me first say that I have always admired and enjoyed Bob Costas' work as a sportscaster and sports talk show host.
The way he can shift gears from football to baseball and even the Olympics is impressive to watch and listen to.
One area he should stay out of however, is politics, including issues like gun control.
Costas entered the fray with his Sunday night halftime opinion, using columnist Jason Whitlock in part to state that if K.C. Chiefs linebacker Javon Belcher didn't have a gun he wouldn't have killed his girlfriend or himself in Saturday's horrific incident.
Whether Costas is correct or not, and he's on shaky ground at least with the argument at all, the football arena isn't the place for the discussion.
Costas comes off as just another liberal shooting from the lip, similar to Jim Lampley, who should also just be satisfied making millions from his boxing work rather than spew his occasional nonsense.
Some would argue that guns aren't the problem so much as who is holding them.
The same could be said for microphones, unfortunately.