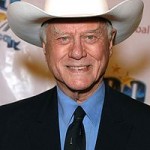 From a creative comedy like "I Dream of Jeannie" to the cutthroat drama "Dallas" one quality defined Larry Hagman's career as much as any other: Fun.
The man seemed to genuinely enjoy his work up until the day he died, which was Friday. Hagman reportedly passed due to complications from cancer at age 81.
Hagman was remarkably different in the two shows, using a nervous laugh as he kept trying to put the 'Jeannie' back in the bottle, as it were, to having the confident swagger of J.R. Ewing, the character America often loved to hate.
For different reasons I probably shouldn't have enjoyed either show as much as I did at the time.
But credit Hagman for a remarkable career in pulling off two amazing roles and being so loved in doing them by actors like his 'brother' Bobby on Dallas, Patrick Duffy, who issued this statement.
"Friday I lost one of the greatest friends ever to grace my life. The loneliness is only what is difficult, as Larry's peace and comfort is always what is important to me, now as when he was here. He was a fighter in the gentlest way, against his obstacles and for his friends. I wear his friendship with honor."