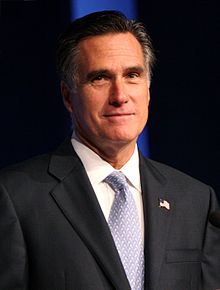 Oh, the power of television can be a double-edged sword, especially for politicians.
In the past Ronald Reagan and Bill Clinton used their ability to be 'telegenic' to win consecutive terms in the White House and effectively govern to some degree.
Whatever you feel about his policies, TV, or perhaps more specifically the teleprompter also helped Barack Obama quickly rise to power as U.S. president.
Obama's TV "ability" appeared to betray him Wednesday night, however, in the first of three televised debates vs. Republican presidential nominee Mitt Romney.
The night belonged to Romney who was sharp and decisive from the get-go, while Obama appeared listless and unprepared. While I am not a fan of the current president, the consensus on the left and right was the moderate from Mass. was the clear winner.
Proper or not, if the next two debates go the same way, Romney will be the next president of the United States and Obama will part of the history books.
"Blame it" on the power of television to some extent.