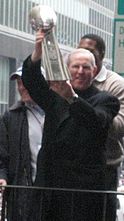 Growing up a New York sports fan I can be a little negative and jaded at times.
How else can one possibly explain criticizing very successful teams like the Yankees and Giants?
That brings me to Giants coach Tom Coughlin, who not long after the team brought him in in 2004, many fans, myself included, were ready to run out of town.
Coughlin, despite his success as an assistant coach and in head coaching stints at Jacksonville and Boston College, was inflexible and ornery, even making players show up early for meetings.
His attitude was Bill Parcells-like, without the same level of success.
Coughlin's approach quickly wore on the Giants, including superstar lineman Michael Strahan, the current FOX football analyst and morning show host, who admitted to disliking the coach.
Coughlin had to change, and with a bit of an intervention from his suffering family, he did  and has gone on to capture two Super Bowls in Gotham.
Their emotion is palpable as captured via interviews on 'A Football Life', the NFL Network's biography-like program. Tom Coughlin's a a good coach and even a better man, which the show does a fine job capturing.