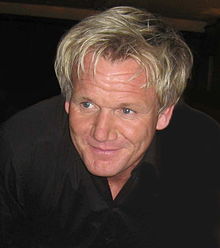 Outside of Mitt Romney perhaps one other person can be the job "saver" or creator the United States REALLY needs right now: Gordon Ramsay.
Yes, or "yah" as he would say, Ramsay comes off as arrogant, harsh and even cocky but the great chef has helped many restaurants and now even hotels via his FOX series' Hells Kitchen and Hotel Hell.
More importantly, he has saved people's jobs and improved their lives via the programs, including a third, Masterchef, which also airs on FOX over the summer.
Ramsay takes some rough measures, like cursing and yelling in some owners' faces, even locking one behind a door for a few hours, but some of them need Gordon's measures of tough love.
It takes a tough man to make a tender chicken, but nowadays it takes tough people in order to stay in business.
Take it from Gordon Ramsay.