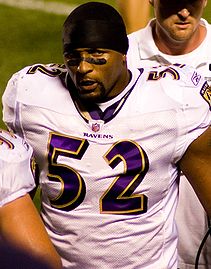 The best referees are often the ones you don't see or hear in a game.
That wasn't true for the beginning of Thursday's Ravens-Browns game, however, as fans applauded game officials at the beginning of the contest and linebacker Ray Lewis even hugged a ref.
I don't always appreciate Lewis' bravado, but I thought this was a pretty cool thing to do.
It was if the Ravens linebacker was doing it for all of us fans of American football and the NFL.
Good moment after a drawn out affair that was an embarrassment to the league.
As for being an NFL official, who will be making close to $200,000 per year under their new pact, it must be nice work if you can get it.
You won't see me anywhere near a field, however, as I couldn't officiate a youth flag football contest.