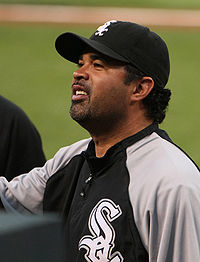 I'll admit I am a New York Yankees fan first and Mets, second, although the second part of that sentence can be really tough to deal with at times.
As awful as the Mets have played in the second half of the season, however, at least they aren't the abysmal Miami Marlins.
A season that began with the hope of a new stadium and exciting players like Jose Reyes, Mark Buehrle and Hanley Ramirez quickly unraveled, with the latter even getting traded during the season.
More painfully, it did so under the watchful of Showtime's TV cameras in the terrific "The Franchise" series.
You see, when manager Ozzie Guillen is winning as he did at times with the White Sox his vulgar 'me-me-me' act is tolerable. This season with the Marlins has been far less so from him having to apologize for complimenting Fidel Castro to Guillen's trouble working with players.
"It's just one of those things that — what you see is what you get," Marlins reliever Heath Bell said, comparing himself to his manager. "I'm not going to be two-faced. I'm not going to sneak around your back and say this and that."
Guillen was a controversial hire, as he loves jawing with his own players and other teams players as well. To some, he and the organization are getting exactly what they deserve in their union.