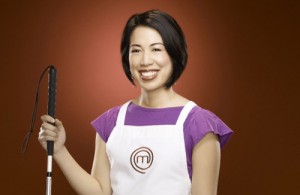 Right from the beginning of this season of FOX's reality cooking show Masterchef Christine Ha pulled at more than just the apron strings.
The blind chef tugged at the heart strings as well with her amazing cooking ability and humble approach.
Unlike so many of her competitors, Ha never had a mean or rude comment for her foes, either.
Ha's ways were as refreshing as the difference-making sorbet she concocted in the finale.
How she was able to cook so well and plate food so beautifully even without vision was extraordinary.
Ha clearly had an effect on the other chefs as well as judges Gordon Ramsay, Graham Elliot and Joe Bastianich.
Did you watch Masterchef? Were you happy with the result?