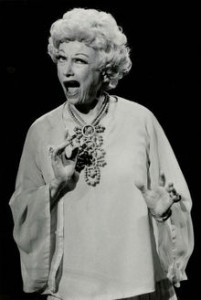 Phyllis Diller, who never had any trouble cracking wise about herself while making us laugh in the process, died Monday at her Brentwood home outside Los Angeles.
She was 95.
Diller wasn't a classic beauty, but she was a pretty darn good comedienne who dressed the part with outrageous outfits and unforgettable hairdos.
And that laugh! oh….that laugh, which set her apart and made Diller into a legend.
She used laughter to get her through a poor and difficult early start to her career and went on to make us laugh … often.
Comedian/talk show host Ellen DeGeneres said, "We lost a comedy legend today. Phyllis Diller was the queen of the one-liners. She was a pioneer."
Singer Marie Osmond tweeted, "What a voice. What a presence. She was an all-out comedian. We will miss Phyllis Diller…"
Those around her were blessed by Diller's presence up to the day she died.
"She died peacefully in her sleep and with a smile on her face," her longtime manager, Milton Suchin, told The Associated Press.