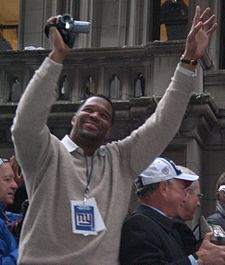 At 6'5, 275 pounds and often flashing a gap-tooth grin former New York Giants star Michael Strahan is hard to miss.
He'll be even more difficult to miss soon when he takes over as Kelly Ripa's co-host on ABC's Live.
The decision was released Tuesday and Strahan will take over the gig Sept. 4, which marks the 25th anniversary of the program.
Strahan was one of 59 guest hosts since former co-host Regis Philbin left the program last November.
Apparently the superstar clicked the most with Ripa, who certainly signed off on the move.
Strahan already works on FOX's Sunday morning NFL show, a job he won't give up.
Do you think he will mesh well with Kelly and keep the show successful?
Please comment below…