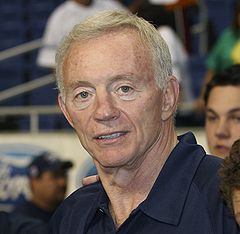 Call me old-fashioned and that's just fine but there's something appropriate about owners acting like owners.
I guess I am spoiled by how the Tisch and Mara families have handled themselves as owners of the New York Giants: with dignity and class in abundance.
Their approach has paid off with four Super Bowls.
While the Dallas Cowboys have enjoyed such success, it came before Jerry Jones took over as owner of the team in 1989.
The 'Boys have won tons of games and made bushel fulls of money — Jones is worth $2 billion — but it seems pretty empty without football's biggest prize, the Super Bowl.
Just ask the many fans of "America's Team".
Whether it's right or wrong, Jones seems to have an insatiable appetite for fame, perhaps even at the cost of winning.
Jones' current ad for Papa John's, for instance, in which he raps, coming five years after a likeness of him as a "breakdancer" in another pizza ad, is arguably not owner-like.
You wouldn't see the Tisch's or Mara's doing anything like that … they're too busy putting together Super Bowl teams.
Players like Eli Manning and Michael Strahan have been the face of the Giants over the years.
With the Cowboys it's Jerry Jones front and center … and that's not a great thing.