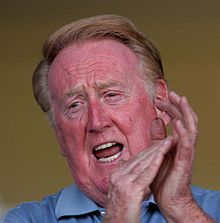 First off, for a disclaimer, I am NOT a big fan of everything Los Angeles.
Take the traffic, overcrowding, bloated sports teams and mostly liberal politicians.
Take them all … please!
That said, it's difficult not to admire and respect the 64-year run of Dodgers announcer Vin Scully.
Scully is a true wordsmith, never using too many or too few, it seems.
He also boasts a beautiful, even lyrical, voice.
I'll make a confession here, even though I am a lifelong Yankees fan I sometimes find myself announcing a Dodgers player when I am walking around my condo.
Yes, I am a little nutty but Vin Scully is also just that great at what he does.