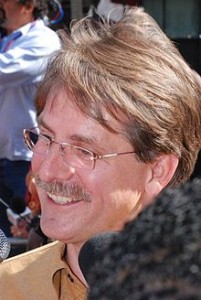 It almost makes TOO much sense, it's strange someone hasn't thought of it before.
On August 23, Game Show Network rolls out "The American Bible Challenge," a gameshow testing biblical knowledge, hosted by the tasteful but funny comedian Jeff Foxworthy.
Foxworthy, of course, is famous for the long-running "You Might Be a Redneck" jokes and as host of FOX's "Are You Smarter Than a 5th-Grader".
It's a show that promises to offer knowledge about history and more importantly faith about the most important religious figure of our time: Jesus Christ.
Each blog post lately I seem to have a line that ticks off several readers, and if it wasn't in the line above it will come now. It is interesting to have a show like this come around at a time when some people are trying to remove God from education and government circles.
Television too, has turned from Christ, with wholesome programming of the last century becoming the GCB's (look it up if you don't know what it means) and worse of the 2000's.
Game Show Network then is taking a chance, but one if clearly feels is worth taking, with The American Bible Challenge.
"Any time people shy away from any type of programming, it's because of fear," GSN exec VP of programming and development Amy Introcaso-Davis told Variety, noting that as a smaller network, "We're the right kind of place to take the risk … "
I hope great masses of viewers tune in to this worthy enterprise.