The morning "news" programs may be more fluff than anything else, but it's still difficult not to like GMA's Robin Roberts.
The former ESPN star is smart, well-spoken and not rude or crude as a host and has discussed being a Christian woman on CBN.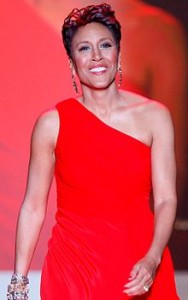 She unfortunately has also had to battle health issues, such as the blood and bone marrow disorder called M.D.S. she is currently dealing with as Roberts announced Monday.
Roberts, already a breast cancer survivor, will receive a bone marrow transplant from her older sister Sally-Ann later in the year and likely miss GMA for a few months.
I am more of a 'Today' viewer out of habit, but ABC's GMA has made inroads into the NBC show's ratings.
With her steady and solid approach, Roberts HAS to take her share of the credit for that.
We wish her all the best!