There's NO WAY Howie Mandel could do it!
Drew Carey's job as host of daytime game-show The Price Is Right, that is.
Carey shakes hands, often, gets squeezed … HARD! and seems to love every second of it.
The former improv and comedy star is EXCELLENT in this role, which would be no work for a germa-phobe like Mandel.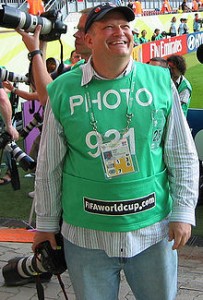 Not that there's anything wrong with that, it's just that Carey seems kind, decent and genuine for an entire 60 minutes as ringmaster of 'Price', which is no mean feat.
People are constantly yelling and screaming their bids for products from popcorn to cars —the format hasn't changed from when Bob Barker more coolly hosted the program—and Carey must deftly keep the show moving.
The quick-thinking comedian, the show's host for five years has to roll with things too,  like the woman who had a t-shirt on that read "Drew's for real, now let's make a deal!"
Carey joked about bouncing her from the show and the announcer referred to Drew as "Wayne", a reference to 'Deal' host Wayne Brady.
But Carey certainly is the terrific host of The Price is Right.
And that's easy to deal with.