"Find something you love to do in this world and don't let anyone ever change your opinion that you can do it."
Former Major League Baseball pitcher Jim Abbott said the above during a recent CBS Sunday Morning profile. Abbott has lived those words and is an inspiration to anyone who has seen his "work" or had the pleasure of meeting him.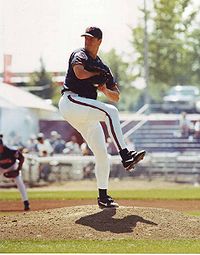 Abbott, who once threw a no-hitter for the New York Yankees, did so despite being born without a right hand. The Michigan native, who learned to flip his glove from arm to arm so he could field his position, has also written a book called Imperfect.
It's an ironic title since throwing a perfect game is one of the few things Abbott, now a motivational speaker, didn't accomplish.
Abbott was once considered the nation's top amateur athlete in 1987 and went on to win and Olympic gold medal in 1988.
Imperfect, perhaps. Marvelous person … definitely.