Woof, woof!
Again?
Ugh!
Arsenio Hall has apparently parlayed his win on the most recent Celebrity Apprentice into another shot at a late night show.
While Donald Trump's show can be entertaining, if a bit cut-throat at times, for numerous reasons I can't be too excited about Hall's second foray into the late-night wars.
First off, Hall was very compassionate toward his friend Magic Johnson and supported AIDS research with hundreds of thousands of dollars in donations of late.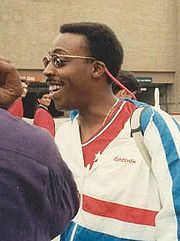 He was very mean-spirited toward President George W. Bush pretty much every night of his first talk show, however, often taking pot-shots at the president's so-called lack of intelligence.
Arsenio's dopey "awww-shucks" laugh quickly got on my nerves … as it did other viewers, I believe.
It will be interesting to see how he treats this president, if he is still in office when Hall debuts his show next fall, considering this country's lagging economy and Obama's "disappointing"at best  showing.
Additionally, there are already several late-night show hosts that do what Arsenio did, or does, in Letterman, Leno, Kimmel, Fallon, Ferguson, Conan and numerous others.
What will make Hall stand out at "Hall", if you will? That weak joke reminds me of how watered down his material was.
I can't see him at 57-years-old being any more cutting edge in his first go-round in the late 80's to mid 90's.
I don't even tape late-night shows to watch them in the morning, as I used to do, why would I use up DVR space on Arsenio?