There's just too much death and sadness in the news lately.
It wasn't any better Wednesday with reports of the suicide, via a single bullet to the chest, of ex-legendary NFL linebacker Junior Seau.
I always regretted missing the opportunity to meet him when I lived and worked as a reporter  in California.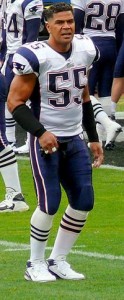 He was so successful, so smart, so well-spoken … Seau was a great role-model for a number of reasons.
Seau didn't stop when his marvelous football career ended after 12 seasons with the Chargers, Dolphins and Patriots, either.
He went on to own a successful restaurant in his hometown of Oceanside, CA., as well. The personable star also hosted a reality show about jobs in sports.
Seau, 43, was a good man by all accounts …. it's just too bad he didn't/couldn't stop himself before pulling the trigger on a fateful shot.
He will be greatly missed and our thoughts, prayers go out to his family.