So what if it's just syrup and carbonated water … if soda can find a way to be inspirational that's great.
We seem to need inspiration SO badly in this day and age.
The latest Dr. Pepper ad, the one where people are wearing a bunch of t-shirts with words that display their originality is a clever and terrific spot.
Real heartwarming and positive, standing out in the sea of blahness in which we are all currently sailing in.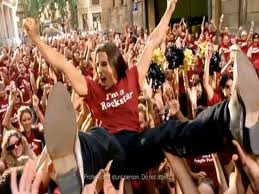 OK, maybe I'll just speak for myself, but I needed a lift … much like the "rock star" that gets carried by a crowd in the ad.
Thanks for providing one, Dr. Pepper … still an original after all these years!