It was a bit sad to see Rick Santorum step aside as a Republican presidential candidate Tuesday afternoon.
While not a perfect candidate, none of them are, Santorum put up a heckuva fight for the nomination even as Mitt Romney continues to pull away in the delegate count.
He talked about faith, family and the greatness of this nation … which hopefully we still have some left.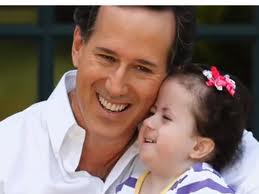 Rick and his wife Karen also brought us precious little Bella. That photo of father and daughter together is both priceless and precious. Bella was released from the hospital Monday as she continues to battle with the rare genetic disorder Trisomy 18.
It was appropriate Santorum suspended his campaign in Gettysburg, PA after a weekend of tending to her.
At the place of a famous battle, Santorum too was a battler who went further in this campaign than many thought he could.
Thanks Santorum family for fighting the good fight … you have inspired many of us!