I dedicate this post to my dearly departed brother, Augie, who left this earth over the weekend at the all-too-early age of 52. I already miss him!
Watching television with my oldest brother, Augie, was always an experience.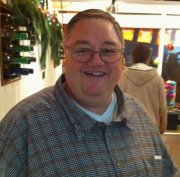 He could watch a Yankee game TWICE in the same day, and all the pre-game and post-game shows too … and get up the next  day and do it all over again.
I'm sure he's not alone on that, and I love the Yanks too, but my attention span was and is very limited compared to Augie's.
He simply had a Joie de vivre and the ability to suck the marrow out of life's simplest little things.
Oh, he enjoyed comedies like Everybody Loves Raymond and the classic All in the Family, but he was also able to be engaged by documentaries on topics as simple as hobos riding the rails from city to city out west.
They even gave themselves nicknames, like "Sacramento Joe". Augie and I talked about that program for many years, even though it was just a program he happened upon.
And the times he was ON television, as a celebrity chef, or once interviewed as a "man on the street" were unforgettable.
"They got no re-GAHD for the hours people have to woik'" he told one Sacramento TV station about telemarketers. Augie sure loved his own thick New York accent … even if he thickened it up a bit extra himself … lol.
One of my regrets is that Augie won't have a chance to see his beloved New York Rangers down the stretch drive of the season as they chase a Stanley Cup.
It's much more important for me to remember, however, he had a period of fasting, prayer and reading the Bible in the months leading up to his death.
He leaned on the Lord in tough times, and it heartens me to know that.
We all should lean on the Lord … myself included … at ALL times.