Comedies with real laughs that are mostly inoffensive don't come around often these days.
'Rob' is one such television program.
The CBS comedy, starring ex-SNL'er Rob Schneider, is a crisply written, well-acted program that makes you laugh in pretty much cringe-free fashion.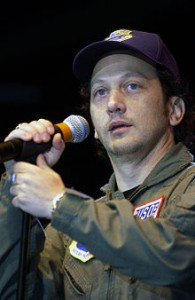 Schneider is at his best here, not doing in-yer' face comedy a la SNL, but rather a somewhat tightly-wound husband of a pretty Latino woman.
Not only is she (Claudia Bassols) improving as an actress from the beginning of the series, the show also draws off the strength of the father-in-law character of Cheech Marin.
Marin correctly tells Rob at one point not to argue with his new bride, but rather learn how to accept "losing".
Rob is so regimented that when Bassols' character tries to introduce a new pillow into their home it throws him off.
He eventually throws it out, or tries to.
The show treads into dangerous territory with the lecherous cousin-type and the grandmother with a shrine in her bedroom.
The cousin is eventually "forced" to work in the family's car wash, though he makes a wet mess of himself by getting caught up in the brushes.
I would disagree with this being a knock on Latinos, however, as several cultures have similar stereotypes that are not exclusive to that great culture.
The early reviews for Rob weren't good, but an episode I recently watched was pretty funny and didn't degrade Latinos.
I say give Rob a chance.