We have so many reality shows these days, and some of them are pretty good and interesting.
Most of them we all could quite honestly do without.
Well, Quilted Northern bathroom tissue, with a recent ad campaign wants to bring reality to one more place:
The bathroom!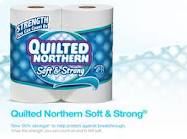 "It's time to get real about what happens in the bathroom," one woman exclaims. "And start talking about what you really want from your toilet paper," another woman exhorts.
Well, Quilted Northern, don't take this the wrong way, but I need to respond. "No thanks!" and "Never!"
That is, don't we do ENOUGH talking in this country about all kinds of issues and topics?
Can we draw a line SOMEWHERE?
I have … my line to not talking starts where the bathroom door opens, closes and re-opens. What happens in my bathroom … STAYS IN MY BATHROOM!
Sorry Quilted Northern, but I won't discuss ANYTHING that goes on in the bathroom … I can't and I won't.
Maybe it's just me, but my bathroom is OFF LIMITS! Perhaps growing up with a father who combined coffee drinking, smoking, sweating and gosh knows what else in there has made me kinda' sensitive to not discussing matters of the bathroom.
See … I said too much already.