I respect the heck out of the great Roger Federer.
I appreciate the toughness and passion behind Rafael Nadal, especially his heartfelt remarks about 9/11 over the years.
Why haven't I yet warmed up to the new No.1 tennis player in the world, Novak Djokovic?
I did Sunday night when I watched 60 Minutes, the legendary news magazine and it's feature on tennis' new top dog.
I know, I know … oh, do I know what a hypocrite I am even going anywhere NEAR this program after how shabbily it treated former Pres. George W. Bush. I swore the CBS program off for a few years after its weekly bashing of W, despite the overall success we have enjoyed in Iraq.
But I digress … with apologies.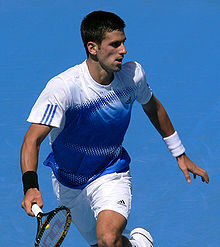 Djokovic is a much-needed breath of fresh air to the sport with his dead-on impressions of both men and women players on the tour, including Maria Sharapova and Rafa. The former warmed up to Djokovic's "act" quicker than the latter, by the way.
As great a tennis player as Djokovic is, his humor and good nature is SO needed in this day and age where sports doesn't always provide the refuge it used to.
Djokovic is 100 times even more important to his war-torn home country of Serbia, providing a lift it so badly needs.
His dancing is both funny and great at the same time … I'm not too sure how many people you can say that about.
Thanks 60 Minutes for doing what you do best … showing Novak Djokovic at his best, on and off the tennis court.