Ugh … no not my name … but I was SO wrong about Joe Namath for so many years.
I would look at his sub-par statistics and think the guy MUST have been overrated.
I know I wrote it already, but UGH … I was so wrong!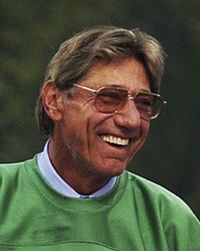 The guy was one of the few athletes who predicted a victory in the biggest game of all, the Super Bowl, then delivered the goods with a strong performance in an upset of the Colts in Super Bowl III.
Toughness … thy name was Joe Namath, who could have had those great stats I used to SO overrate. In fact, he did have a couple of excellent seasons despite playing on terribly banged-up knees.
Namath was brash, but he won … in New York no less … and still deserves all the credit a legend like him deserves.
What reminded me of Broadway Joe was the fact that HBO's documentary 'Namath' will soon air on the pay-TV outlet.
For all its faults, Bill Maher and a bunch of unwatchable series, no network does documentaries better than HBO.
And no one did big moments on the big stage better than the legendary Jets quarterback.
While others promoted themselves as great, Mark Gastineau's ridiculous sack dance comes to mind, this guy WAS great.
Actually, Namath still IS great in that he's willing to speak his mind about his beloved Jets to this day.
That has got him on the outs with this current group of Jets leaders, namely coach Rex Ryan and GM Mike Tannenbaum.
It's time for this thin-skinned group to shut up and lead … and get Joe back into the fold.
The most important tie to the team's glory days shouldn't be  treated so shabbily.