Hey, I love my cheeseburgers, hot dogs, fries and turnovers as much as anyone … but in the SAME lunch?
That's what Hardee's is offering, and I didn't even mention the drink … all for $5 … according to its TV commercial.
A good value … perhaps. A good way to become fat, or stay that way? A much better bet …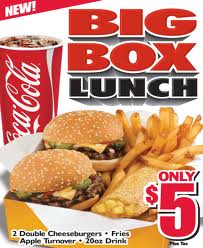 Hardee's, or Carl's Jr. out west, has obviously never heard of moderation.
Or the fact that most Americans are outta control obese.
I oughtta' know … I have battled weight woes for years.
But I am EVENTUALLY going to win … and avoiding their $5 lunch … will help me in that cause.
Sorry Hardee's, but I'll stick to A hot dog or A cheeseburger at a time …
Follow Matt's blog on the Yankees at: http://yanksgoyard.com/author/mattster/