Pardon the grammar but "Beyond Scared Straight" ain't no joke.
The A&E series gives would be convicts a real look, a real CLOSE look, at what life behind bars would be like.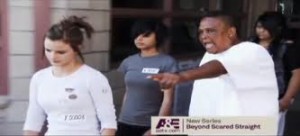 What it IS like, actually.
And it's no fun, not even in the slightest.
It's important television though for kids who have scrapes with the law and think it's fun to hang out with the wrong types of people who drink and do drugs.
Prison is NO joke, and prisoners themselves show troubled teens in an up close and personal way how NOT fun it is.
They yell, they scream (bleeped out for TV, but you get the idea), they show and tell prisoners how life will be like in prison.
It stinks, it rots, it's awful.
It good for some kids to see that. It's important for some kids to see that.
'Scared Straight?" … they should be.
Check out Matt's blog posts on the New York Yankees at: http://yanksgoyard.com/author/mattster/