I am a New York Giants fan … first and foremost.
But while I appreciate Eli Manning's development as a quarterback and person, I can't say enough good things about his older brother, Peyton, the perhaps soon-to-be ex Indianapolis Colts signal-caller.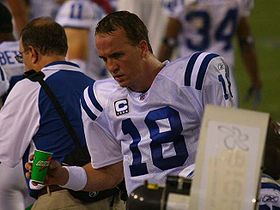 Peyton has such a GREAT attitude, it's UNREAL. Who else could be comfortable enough in his own skin to play a referee in a Papa John's pizza commercial and deadpan he's doing it because "I need the work".
LOL.
I know, I know … Peyton's playoff record is just 9-10 and he has JUST one Super Bowl to Eli's perhaps soon-to-be two.
But while Eli matches Peyton in the humility and hard work departments, he may never touch him in the area of sense of humor.
But that's no knock, as the former SNL host Peyton KILLED in a couple of skits on that show too some years back. Not easy if you have seen that often dreadful show.
Peyton's situation with the Colts is touchy, after all, as he missed the season due to a neck injury and the Colts may dump him rather than pay a $28 million bonus.
"Dump" Peyton Manning? Sounds ridiculous, but that's a TON of money and Stanford standout Andrew Luck could be the team's quarterback of the future.
Don't cry for Peyton Manning though. Laugh WITH him instead!
Check out Matt's blog posts on the New York Yankees at: http://yanksgoyard.com/author/mattster/