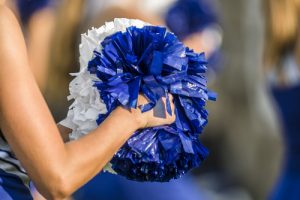 From the moment I saw the trailer a month or so ago, I knew I had to be in the theater when the movie Poms debuted. Perhaps it was because I am now in that demographic (although most of the characters had 10 years on me). Maybe it was that it was about underdogs becoming top dogs despite the odds and the machinations of a prissy pseudo-Southern Belle social director at a retirement community in Georgia. The lead character played by veteran actor Diane Keaton is Martha who packs up her New York City apartment where she has lived for more than half her life to spend her waning days in said community. Why she chose such a polar opposite setting was not spelled out and left me wondering how it was that she went there kit and kaboodle without having visited first. There she encounters Sheryl, played with wild woman pizazz by Jacki Weaver. They bond reluctantly at first but then become co-conspirators in creating a cheerleading squad. It was to help Martha to fulfill a teenage dream of performing as a cheerleader. She had made the varsity squad in high school, but then her mother got ill and died, so she quit and packed up her uniform. She gathers together other women whose own lives seem banal until they catch the enthusiasm Martha and Sheryl generate. No one takes them seriously and there is a point where they set themselves up for humiliation by a mean girl and her own cheerleading squad until they enlist her assistance as their choreographer.
The movie is simplistic for sure; none of the characters do a deep dive into a back story. Themes that run through the film include ageism,  empowerment of women, self-image issues, death and dying, and men controlling (or attempting) to control women; one a husband for whom karma comes to call and one a son who infantilizes his mother.
The rest of the cast includes longtime performers Pam Grier, Rhea Perlman, Phyllis Somerville, Patricia French, Carol Sutton, Bruce McGill, and Ginny MacColl. The teen newbies are Charlie Tahan and Alisha Boe played with shy boy bewilderment and popular girl confidence. Of course, there is chemistry between them.
Another reason I was moved by this 'feel good-feel sad-feel good again' film is that I recently lost a dear sister-friend to cancer and I could absolutely see her in cheerleader mode, although, to the best of my knowledge she never was. She was, however a disco queen in the 1980s, shaking her booty to the music in the same way these seasoned badass babes did.
Some of my favorite lines: "You are dying today. You will be dying next week. In between, you should be dancing your ass off."
Photo Credit: Shutterstock