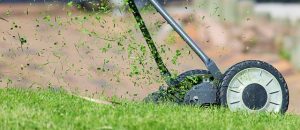 Yesterday, I fetched my lawnmower from the local repair shop since the machine that most of the time efficiently crops the greenery around my suburban Bucks County, PA home stopped running a week earlier. It was less than 10 years old, so I know it hadn't done its final round. It had started briefly and then sputtered to a halt. I loaded it into my car and hauled it a few miles to Meyers, a long-lived locally based family business. Two elderly dogs wander the property and have come to greet me for chin scritches and pats each time I have visited over the years.
When one of the owners brought the machine out, I learned something I hadn't known from day one of ownership. First, I was told that the carburetor had to be rebuilt (ruh roh…I was expecting a much higher bill than I was handed) and that should do the trick. Before loading it back into my car, I tested it to be sure it would start. I pushed the primer button the requisite three times to get the gasoline flowing and then pulled the cord and pushed the handle. Nope. The man leaned over and showed me how to push the button three times….sloooowly, not rapid paced as I had been doing all this time. He then repeated the routine I had done and voila! the mower roared into action. He explained that by priming the pump slowly it allowed the gasoline to flow naturally and fully, while doing it as I had, only allowed it to go in spurts.
When I got home and replicated the routine, whaddya know? It worked again. My lawn is now happily trimmed.
It had me considering  (since I am a writer and think in metaphors,)  that life is much like that. When we push too hard, too fast or too much, we are likely to sputter out. Even if we do start, we may not be able to sustain momentum. When we go at a measured pace, we can mow down resistance. When we are properly fueled, whether it comes in the form of food or emotional support and love, we can get the job done with energy to spare. When we seek the guidance of someone more knowledgable than we are, we could actually learn something valuable.
Photo credit: Pixabay