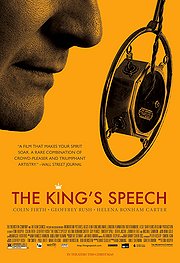 In a year when one could get discouraged about the state of film and music in the English-speaking world, there were a few truly exceptional films and efforts at music making that deserve to be mentioned. Of course, works of art need to be evaluated within their genre. For example a jazz CD should not be compared with a classical CD. Nor should an animated children's movie be compared to a serious historical drama. That is like comparing apples and oranges, and in those kinds of comparisons, the discussion degenerates into a spitting contest based on personal preference and individual taste. There are however criteria by which to help one determine the excellence of a work of art, and technical performance is perhaps the least of these. For example, I have heard a technically flawless performance of Schoenberg before, but alas the musical composition itself could hardly be called a classic, and in some ways it hardly qualifies as good quality classical music. Or, to refer to a more au courant example, take the movie 'Avatar'. This was by no means a great movie— the acting was plebian, the dialogue pathetic, the story mostly a rip-off of Dances with Wolves and other similar scripts. Technically though, in terms of 3-D cinematography it was eye-popping and in spots, spectacular, advancing the art of that sort of filming. But like the movie Tron, it just wasn't a very good movie, despite its visually alluring and stunning qualities. With these sorts of caveats, I offer the following two very short lists:
Best historical drama– a tie between the King's Speech and The Last Station
Best original children's animated full length film— Despicable Me.
Tangled deserves mention as an excellent reboot of a familiar story, and to a lesser extent Toy Story 3.
Best sci-fi type film—- Inception. Hands down, no closer competitors.
Best Western— Despite this being a remake—- True Grit. The fact that it is a remake says something about the sorry state of Westerns these days— slim pickins.
Best Eccentric True Story— Get Low. Robert Duvall and Bill Murray are amazing in this film
Best Sports Film— Some of the ESPN 30 for 30 films could be mentioned as short subjects— e.g. The Two Escobars, but as for the silver screen The Fighter deserves the nod on points.
Best Spy Spoof—- Red, though Knight and Day has its moments as a spoof.
Best Technology Driven Script— Social Network. This is not a great movie, though some of the performances are good enough, but the script of Sorkin, and the true story behind the script make this an important and memorable film.
Best Musical with Original Score– Tangled with the Menken score.
Best Comedy or Satire— Alice in Wonderland. Helena Bonham Carter manages to play a queen in two movies this year, the other being The King's Speech. And Johnny Depp is as usual doing his home state of Kentucky proud. Wish I could recommend a romantic comedy, but sadly not this year.
———–
Best 'Smooth' Jazz CD of the Year—- Six String Theory— Lee Ritenhour and a bevy of fantastic guitar players.
Best Classic Jazz CD— Freddy Cole (yes Nat's Brother), Freddy Cole Sings Mr. B
Best Return to Form of a Jazz/R and B artist— Sade— Soldier of Love
Best Symphonic Collaboration CD— Sting— Symphonicity
Best Pop Concert/BW Concert Album of the Year— James Taylor and Carol King— Troubadour Reunion
Most Rejuvenated Classic Rock Band— Journey. Check out the Live in Manila DVD
Best Acoustic Do-Over of their Best Rock Songs—- Duo— Richard Marx and Matt Scanell (of Vertical Horizon).